Chapter 206
Damn it. He couldn't help it, Duke Battenberg thought.
'I thought it's a ploy to incite the common people and win public sentiment somehow, but it's useless.'
Because those savage dogs and pigs won't raise the hand of sinners.
The Duke pretended not to lose his composure yet, and he tried to speak calmly.
"As the Grand Duke knows best, the evidence of Valentine's involvement in the treason is so clear that it is meaningless to explain it."
Then, the officials who joined the Duke's forces, in other words, the officials who did not want to go crazy again, actively stepped forward.
"Yes. First of all, Grand Duchess Valentine over there, is a siren."
"The fact that His Majesty lost his mind before he passed away, and the other nobles became mad. It has already been proven that the Siren did it."
"And the massacres, human sacrifices, natural disasters, and epidemics that occurred throughout the empire, as well as the other ominous misfortunes that followed."
"Well, wasn't that matter already over?"
Aria asked.
"The Angelo family must have already sufficiently proven that Garcia was the one who instigated the incident, right?"
"And Saint Veronica proved that she was an agent of God, she confirmed that those claims were false."
Aria smiled and said.
"That news is very late. Did you not know that Saint Veronica is actually the devil's contractor?"
Duke Battenberg lost his words for a moment. It was because he didn't expect that Aria knew that far.
But he soon calmed himself down. It wouldn't change anything if Aria knew the truth.
"What nonsense are you talking about! You're insulting the most holy person, do you have any proof!"
Duke Battenberg's blood rushed to his neck, his face flushed red. Like really angry. Full-on smoking.
Believing that there was absolutely no way she could prove the truth at this point, he became more brazen.
"If there is evidence, there is where it probably is."
But Aria brought out some unexpected words.
"Wh, where?"
"There, your neck."
It's repulsive, so I don't really want to see it. As Aria was muttering with a trembling expression. Lloyd covered Aria's eyes and flicked his fingers in the air for a moment with the other hand.
Just like that.
The Duke's clothes, except for his underwear, suddenly split into pieces and fell to the floor.
"UWAA!"
He screamed and tried to cover himself, but to no avail. His bare body has already been exposed to the whole world.
Except for Aria, whose eyes were covered by Lloyd.
"Uhh……."
When Natalie crumpled her face like a piece of paper and tried to look away. She caught something in her view.
The Duke's neck Aria spoke of.
There was a black pattern in a place that would not be visible at all on normal occasions because it was hidden by the collar.
"What is that?"
Natalie expressed her doubts by squinting her eyes.
"It's the devil's mark."
Winter, who had blended in among the crowd, broke through and appeared among them. Naturally stepping into the court, he opened an ancient book from 3,000 years ago and held it out.
"It is the pattern of Mammon, the devil of greed, to be exact. It is also proof that Duke Battenberg is the 'devil's subordinate' whom he himself had wanted to judge."
Even though it was a book aged thousands of years, the book had restoration magic on it.
Thanks to this, many people were able to see that the pattern in the book and the pattern engraved on the Duke's neck were perfectly identical.
Aria thought, seeing that Gabriel hadn't noticed the pattern on the back of his own neck at all.
'I wonder if Duke Battenberg has the devil's pattern engraved on him as well.'
He was more reckless than imagined, as if he had been brainwashed. She asked the devil himself, and the devil said yes.
"No! Since when is this on my body… Anyway, it's unfair! It's not like I made a contract with the devil!"
Indeed, that would be unfair. He didn't know he was brainwashed. However, the public, who were already watching the trial with interest, were greatly agitated.
Because the evidence was clear in front of them.
"So, he was the one who actually made a contract with the devil, but accused Valentine's side of being the devil?"
"Valentine has been infamous for being the devil's contractor since long ago. They're the easiest opponent to frame."
How mean. So sly. Countless spectators flocked to surround the courthouse, whispering.
"Then, it was not Grand Duchess Valentine, who made a pact with the devil and brought chaos to the world?"
"My village was ruined because of that rotten fellow! Everyone went mad and died!"
"Our village has been burned down!"
"Our village was hit by an earthquake.."
Public opinion was not good. Somehow, the Duke became a place to blame for everything Garcia and Veronica had done.
He cried desperately.
"I'm putting everything on the line that I really didn't make a pact with the devil!"
"Then how would you describe the pattern?"
To clarify right now, he needs to bring in Veronica.
There was no way the saint would commit such a terrible act alone, so it was inevitable that Garcia's involvement in it would soon be revealed.
But when that happens, the Duke would end up falling with Garcia too. The Duke, caught in a dilemma, decided to turn the arrow in the opposite direction.
"You must have done that!"
As always.
"Didn't you make the walls and ceiling transparent, didn't you tear all my clothes! And without a spell!"
Duke Battenberg shouted without giving up even while hiding behind the seat and desperately covering his body.
"He set a trap. To bring me down! It's clear that he used that devilish trick. It must be magic or something!"
He must not even know what he was talking about. Lloyd and Aria stared at each other in silence for a moment.
"Do I have to keep dealing with that?"
If it hadn't been for Aria, Lloyd would have blown up this court a long time ago.
Then, Aria, who seemed lost in thought for a moment, grinned like a mischievous child and took his hand.
God's goodwill and God's malice in Lloyd's body.
And the last remaining God's goodwill in Aria's body. 'God's conscience'.
When the two of them were together, they could unleash the full power of God.
"There is nothing to be afraid of with a heart that wishes for happiness."
Aria closed her eyes and started singing.
The Song of Salvation.
It was the song she sang to Lloyd when he lost his reason and nearly caused the Valentine's Incident.
"I'll tell you that you shine more than any god in the world.
I would say that you are the most beautiful of the golden stars."
Although at that time, her vocal cords were torn and the blow was so great that she lost consciousness. Now that she is singing, Aria is convinced.
"Those who seek love and virtue, who are courageous and valiant, fear no destruction."
If the Siren's power, which is only a small piece, becomes one with Lloyd, there is nothing that cannot be achieved in this world.
"Even if we fall, we do not die. We will have eternal glory, victory and honor."
Is this a monster's song?
'No way.'
No one will dare to refute the sound of this song. Rather, they will realize.
The siren's song is the voice of God, leading this fallen and crumbling world to glory and victory.
A calm voice pounded people's hearts like a storm. They couldn't even think of rejecting it, and they accepted it helplessly and were swept away.
It was then. A strange phenomenon happened.
The devil's mark on the back of the Duke's neck suddenly disappeared without a trace.
"What? What is it?"
"What happened?"
What happened? The contract between Veronica and the devil was completely broken.
"It's over now."
Lloyd squeezed Aria's hand tighter and said so.
It was the sign of a promise made with the devil. The moment Aria sings her song, the contract with Veronica is terminated once and for all.
"Yes. Completely."
Although there are still things to be sorted out. Now it was just the little things.
"Now is the time."
In Tristan's eyes, tired of boredom, an interesting light shone vivid for the first time in a long time.
Now is the time.
A new era where he can run amok without any restrictions in the world.
The future for Valentine is finally wide open.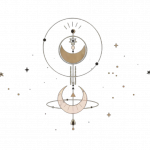 'Why, I am alive.'
Veronica felt the devil's malice draining from her body.
If so, she should have died.
Her body completely collapsed…….
'How much time has passed?'
Her sense of time has long since been lost. She was just being swept to and fro in the blinding darkness.
She doesn't even know what's going on.
Comments for chapter "Chapter 206"
MANGA DISCUSSION
My History
You don't have anything in histories
Advanced chapters on this site can be unlocked with bells, but don't worry! You are not obligated to unlock them—you may do so only if you want to read ahead. The chapters will eventually become free according to the update schedule of each novel.
Tags:
Abusive Characters
,
Adapted to Manhwa
,
Aristocracy
,
Beautiful Female Lead
,
Charming Protagonist
,
Child Abuse
,
Child Protagonist
,
Contracts
,
Cruel Characters
,
Curses
,
Cute Children
,
Cute Protagonist
,
Demi-Humans
,
Depictions of Cruelty
,
Doting Love Interests
,
Doting Parents
,
European Ambience
,
Family
,
Fantasy Creatures
,
Female Protagonist
,
Godly Powers
,
Gods
,
Half-human Protagonist
,
Handsome Male Lead
,
Hidden Abilities
,
Hiding True Abilities
,
Hiding True Identity
,
Magic
,
Maids
,
Marriage
,
Marriage of Convenience
,
Music
,
Mysterious Family Background
,
Mythology
,
Nobles
,
Pregnancy
,
Priestesses
,
Priests
,
Reincarnation
,
Religions
,
Saints
,
Second Chance
,
Singers
,
Special Abilities
,
Tragic Past
,
Tsundere
,
Younger Love Interests