Becoming the Villain's Family - Chapter 194

Chapter 194
"Ugh!"
Aria coughed up blood as her powers suddenly flowed back. And she looked up at Gabriel with surprised eyes.
He was trying to pour out his divine power with a more painful expression.
Just to treat her.
'How the hell…….'
Aria, who touched Gabriel's hand, looked up at him with startled eyes. Compared to the last time she saw him, the absolute amount of divine power had increased.
Aria gritted her teeth and drew a dagger from her chest. But before she could swing it, it was blocked by Gabriel's hand.
The apprentice knight, who was beaten almost to death by vagrants while trying to rescue her, had become a knight commander before she knew it.
He also has overwhelming skills.
'Is it possible that one person's body can contain this much energy?'
In the first place, things that could not be accepted by common sense were happening at the point where Carlin's magic didn't even work.
However, one thing is certain.
"It's you…"
It was Gabriel who planned this. He had spent several years in the Grand Duchy and was aware of the situation here. As for the shaman, Aria never knew this was going to happen when she leaked the story.
"Now, you will never call me angel forever."
It was a voice mixed with resignation, as if he hadn't wanted it in the first place.
And that was the last thing Aria remembered.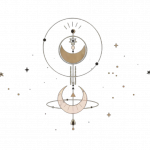 When she regained her consciousness, she was in a comfortable room.
Inside the room bathed in the calm sunlight of the morning, objects symbolizing God were placed here and there.
"Here…"
A cracked voice came out.
"Cough!"
As Aria let out a dry cough, a glass of water appeared in front of her eyes.
Aria kept her indifferent eyes, only rolling her eyes to stare at the other person.
"It may be inconvenient, but please stay here for a while. We will prepare a place for you soon."
Why was he arranging a place for her? While Aria fainted, what did he think about and what decision did he make?
'I'm not even curious.'
Aria listened all around, not answering his words.
Fortunately, she heard the voice of a passer-by, perhaps he hadn't intended to confine her in a remote place.
'An accent unique to the Fineta Empire.'
That means they haven't left the Empire yet. Fortunately. They hadn't gone over to Garcia.
"How much time has passed?"
"Four days."
Four days.
Three days had passed since the day she had promised Lloyd. Something should have happened a long time ago.
'Lloyd said he was obviously not feeling well. Will he be alright…….'
Aria bit her lip and looked worried before she asked.
She didn't want to talk to him if possible, but he was the only one she could talk to, so she couldn't help it.
"How's everyone?"
"…His Holiness will soon declare a holy war."
Holy War.
How can the word 'holy' that represents sacredness and the word 'war' that represents discord can coexist?
It was something she had heard in her previous life, but still it was absurd.
Aria said with a smirk.
"I asked what happened to my family, my husband, and my people."
"My people."
Gabriel simply followed Aria's words, but he didn't respond.
'I shouldn't expect an answer.'
Then she has to find out for herself.
The curtains were drawn, but the light was coming in so she could tell it was daytime.
She lifted herself from the bed and reached for the curtains. At the same time, Gabriel's hand wrapped around her wrist.
"You said I was right."
"…"
"I'm right, so don't doubt the path I'm walking."
"…"
"Lady Aria told me."
Do you remember, he asked.
Aria, who had been ignoring him all along, finally responded to his words.
"So why."
It was her favorite phrase. But she didn't just tell it to anyone.
She said it only to those who wished for their dreams to come true, and to wish them well.
'At that time, Gabriel was like that.'
White as snow, small and fragile.
A young boy who dreams of justice despite his frail body and lack of strength to fight anyone.
How could Aria not cheer him on?
"I heard that you moved me to the Papal Palace and left a card with those words written on it. Although I haven't seen it myself…"
"You haven't seen it yourself?"
But how did he know that it was Aria who left the card behind? Aria asked reluctantly, and he began to explain.
At that time, Veronica hid the card that Aria had left, and spoke what Aria had said. Because of that, there was a time when Gabriel served Veronica like a benefactor.
"Those were words that changed my life."
It changed his life?
Aria laughed and looked down at her own hands for a moment. Although she was not handcuffed or shackled, it looked like it.
"What I expected of you was an innocent paladin who defends justice and does not tolerate injustice."
"…"
"Your life has changed."
At least he didn't try to kidnap and imprison Aria like this in her past life.
"So, you're saying that to justify what you've done?"
"I didn't mean that. I just wanted you to know."
Aria quickly grasped the situation.
Now she was kidnapped. That's because she's a Siren.
After going through her previous life, turning time around, she was now back to square one again. She was dumbfounded, and let out a blank laugh.
"So, how are you going to use me?"
"I'm not going to use you."
"…?"
The answer was rather unexpected. Aria looked back at Gabriel, frowning her eyes for a moment.
"You don't have to cover it up with lies. I've already figured it out."
"You seem to be misunderstanding. There's no way I can use Lady Aria."
"Because you swore allegiance to Garcia. Garcia will need a siren."
Aria asked, recalling the memories from her previous life.
"Didn't the Pope ask you to bring me?"
An area that could never be reached even with the Pope's divine power. That was the Siren's ability to heal.
Because she could bring a person from the brink of death back to life if they heard her song. She wondered if that was what they wanted.
'Or maybe they've noticed that God's goodwill is embedded in my abilities…….'
When Aria threw a sharp look at him full of wariness.
"You must have been through a lot of things where your abilities were exploited."
Gabriel said, looking at her with pity.
It wasn't until Aria heard that that she looked straight into Gabriel's face. She remembered clearly the face she had seen in her previous life.
At that time, Gabriel looked at Aria as the leader of all evil who must be punished.
But now…….
"Your person."
Gabriel bowed his head.
He pressed his lips against the back of Aria's hand and whispered.
"I will do that for you."
And Gabriel, who raised his head, had a terribly desperate face.
"Lady Aria is the reason I swore allegiance to the Pope."
Hearing those words, Aria was taken aback.
In his golden eyes, which shone more brilliantly than before, old emotions that he may have been harboring for some time blazed.
A feeling that seemed closer to hatred than love, that seems to have rotted and festered.
"Ha."
Aria had nothing more to say.
Although she vaguely noticed since before that he was looking at her with a gaze vivid with longing…….
Now his eyes were so blatant that she couldn't ignore them.
So she drew a sharp line.
"I'm married."
She was asking him if he wanted to do this to someone who has a husband now. However, Gabriel did not blink an eye and continued his words immediately.
"I don't care."
"I don't care if you don't care."
Aria said, trying to swallow her anger.
"I have a husband."
"You cannot maintain a marriage with a family that does not exist in this world, Lady Aria."
What? Aria was stunned and opened her mouth.
"You mean you're going to get rid of Valentine?"
"As you have heard."
"Are you crazy?"
"Since much earlier than you know."
…… I was crazy. He added, holding Aria's hand tightly. It seems that he had nothing to shy away from now.
No matter how hard she tried to pull it off, he held on tight and wouldn't let go. Like he was afraid that she would become a mirage and disappear.
"I have no intention of letting you go where I can't see you again. Even if you hate me for the rest of your life…"
"Wait a minute."
Aria's head, which had been unable to function due to Gabriel's sudden action, began to return to reason belatedly.
"I think you're really crazy."
And she stopped rejecting Gabriel unconditionally and looked at him.
His condition was seriously strange.
"Have you been brainwashed?"
"…"
"Look into my eyes. No matter how distracted I am, I won't make a choice like this."
Gabriel defends what he believes to be justice.
It was like that in the previous life too.
Gabriel believed that Garcia was on the side of justice, so he believed that it was right. So he willingly took on the role of the villain.
But he'd destroy everything to possess the person he wanted.
'It's a choice that doesn't look like Gabriel at all.'
No matter how much a person changes, can their personality change?
As Aria suddenly grabbed his cheek and tried to look at him around, Gabriel's eyes shook slightly for a split second.
"Because I'm like this…"
And he whispered in a lower voice.
"That's why I can't give up on you."
Comments for chapter "Chapter 194"
MANGA DISCUSSION
Tags:
Abusive Characters
,
Adapted to Manhwa
,
Aristocracy
,
Beautiful Female Lead
,
Charming Protagonist
,
Child Abuse
,
Child Protagonist
,
Contracts
,
Cruel Characters
,
Curses
,
Cute Children
,
Cute Protagonist
,
Demi-Humans
,
Depictions of Cruelty
,
Doting Love Interests
,
Doting Parents
,
European Ambience
,
Family
,
Fantasy Creatures
,
Female Protagonist
,
Godly Powers
,
Gods
,
Half-human Protagonist
,
Handsome Male Lead
,
Hidden Abilities
,
Hiding True Abilities
,
Hiding True Identity
,
Magic
,
Maids
,
Marriage
,
Marriage of Convenience
,
Music
,
Mysterious Family Background
,
Mythology
,
Nobles
,
Pregnancy
,
Priestesses
,
Priests
,
Reincarnation
,
Religions
,
Saints
,
Second Chance
,
Singers
,
Special Abilities
,
Tragic Past
,
Tsundere
,
Younger Love Interests