Becoming the Villain's Family - Chapter 180

Chapter 180
Their lips touched. For a while.
She thought she needed to do something more.
'What how…….'
It was a clumsy result for something exciting.
It was unfortunate, but it was her first time, so she wondered if there was anything she could do about it.
'By the way, this is not the first time.'
Her memories, which she had been trying to forget, flashed back to her. She remembered that when trying to force a kiss, she smashed her teeth and ripped Lloyd's lips.
Was it from then? Aria's body couldn't keep up with her mind at all.
'Kissing seemed easy when you just looked at it.'
She was likely to make another mistake if she tries more.
Aria was a bit red when she tried to step back. Lloyd came as close as she backed away.
As the startled Aria lifted her eyelids, he whispered in a low, subdued voice.
"Close your eyes."
The moment she thought that the end of his voice was split, Lloyd's head tilted like the moon that met the sun.
In an instant, Aria's gaze met his lips. The red color that was painted on her lips for the coming-of-age ceremony had dyed his lips.
"You got lipstick on you."
Aria unknowingly raised her hand and ran her finger across his lips. She had rubbed it hard with her hand but instead spread it out rather than wipe it off.
Lloyd stared at Aria, who paused and stopped what she was doing.
All of a sudden, their eyes were entangled. A hot flash of light flashed over his eyes, which were twinkling in the moonlight.
At the same time, he chewed her fingers.
"Ah……!"
It stung. It doesn't hurt that much, but why did she think she was going to get eaten?
As her lips parted in response, he rushed over her lips.
Aria tightly closed her eyes. Her head was bent and the heat rushed in, filling her with his scent in an instant.
It wasn't the first time, but it was also the first time they kissed properly.
It was gentle, sweet, and everything seemed to fit, but her first encounter with him was unexpectedly tenacious and rough.
She was pushed back without a chance to breathe.
"Llo…yd, wait…"
It was hard for her to breathe, so she pushed against his chest.
At that moment, Lloyd, who had backed away, glanced down at her and pressed their lips together again.
His eyes, burning with heat, were blurry without focus. There doesn't seem to be any traces of reason in him at all.
"I'm, I'm out of breath…"
Lloyd continued to hit her lips hard as she struggled to catch her breath.
As time passed, Aria became more and more disheveled. Tousled hair, puffy lips, flushed cheeks, hazy eyes…….
More and more, Lloyd changed his direction several times and kept blocking her breath. He gripped the back of her head as she kept retreating back and pressed her tightly to him. He relentlessly devoured her, as if he would devour everything from her.
As a result, her center of gravity shifted towards the bed. The two of them slowly leaned over and eventually collapsed onto the bed.
"Llo… ugh!"
Aria was startled as she was about to call him.
It was because of his teeth touching her lips.
Aside from her heart beating like it was about to explode, her back was preoccupied with the feeling of being swallowed by a wild beast. A chilling sensation ran through her body, and she unknowingly grabbed his robe.
If she hadn't been lying in bed right now, she'd definitely have collapsed with no strength in her legs.
"Lloyd, I'm having a really hard time."
Aria finally shed tears and declared her surrender.
Lloyd had excessive stamina and Aria was regretfully weak compared to him, so it was a seen result.
Lloyd gave a thirsty gaze as she clutched her chest and let out rough breathing. And he realized later.
He pushed her too hard.
"…I'm sorry, it's my first time."
I went out of control. He muttered as an excuse.
He thought he would be like this, so he pretended to be meek until she became an adult.
"Are you having a hard time?"
Lloyd asked cautiously, stroking her eyes. He gave her both the illness and medicine.
"So far…"
Aria sighed and looked up to see that the lipstick smeared on his lips was completely erased.
When she wiped it with her finger, it didn't look like it was going to come off. It was rather embarrassing and it was hard to make eye contact with him.
"I think… you can just do it softly and slowly from now on…"
Aria only realized after spitting those words out.
She should have gotten out of the way first.
Lloyd, who had locked her under his arms, put their lips together again as if he had been waiting for it.
'I'm not saying to do it now…….'
But this time she didn't even think of pushing him away.
The kiss that was soft and melted her like the sun made her just want to wrap her arms around his neck without realizing it.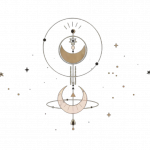 "I told you to stop!"
CRASH-!!
'What.'
Natalie, who happened to pass by the Emperor's office, turned around in surprise.
'Here we go again.'
It was the sound of the Emperor going on a rampage. Originally, he wasn't a very good-tempered person, but he wasn't like that…….
'Well, he was suffering from insomnia, and he has been hearing auditory hallucinations. And recently he destroys everything he touches.'
The frequency of the Emperor's violence was increasing, and Natalie was on the verge of losing her place as the villainess.
What is difficult is that the Emperor, far from being defeated, began to wield tyranny as well.
Although he was still running rampage within the acceptable range. She can't shake the feeling that it's like the eve of the storm.
"He's really going crazy."
Then she will be in trouble in many ways.
Still, Natalie had not given up on her dream of having good health and a long life. She walked past the Emperor's office indifferently, lightly kicking her tongue.
'I wanted to drink more.'
It was the day after she visited Valentine's estate.
Natalie naturally recalled Aria that she had seen the night before. The drunkard who keeps repeating absurd words was so cute.
Without realizing it, she doesn't know how many times Aria hugged her.
"You see, I-ah, I want Natalie be happy."
"Did you?"
"Yeshh…"
"Are you calling my name whatever you want?"
"Forgih me. But, I wand, Natalie happy…"
She took turns telling people that. To the Valentines and Angelos. She wanted everyone to be happy.
As Natalie stroked her head unknowingly, Aria tilted her head like a purring cat.
Eventually, Lloyd, who couldn't bear to see it anymore, exploded and carried Aria.
'I wish I had stayed a little longer on Valentine. I wonder what the reaction will be the next day.'
But unfortunately for her, being a Princess was not such an easy job. She was immediately forced to return using the movement magic scroll.
"Your Highness, could you spare a moment for me?"
It was then. A familiar but unwelcome voice called out to her.
Natalie looked up at Duke Battenberg with a gentle smile.
"Where have you been?"
"None of your business."
"I'm just worried that I haven't been able to see you at the Imperial Palace since yesterday…"
"Should I report to you all where I am?"
He was wearing the same expression like a mask, but the trembling corners of his mouth were reflecting his insides.
Natalie asked sternly.
"Just get the point."
"Why do you want to turn Garcia into an enemy?"
"You're saying something strange. Since when was Garcia not an enemy?"
"Of course, they are not allies, but Your Highness knows that we must not completely reject them."
The Princess's actions toward Garcia were blatant. Because she didn't even try to hide her malice towards them in the first place.
"I'm speaking about this because you don't seem to know, but what you are doing is an act that is close to rebellion against His Majesty the Emperor's deep will."
The Duke spoke to Natalie, word by word. It was like talking with a bear who couldn't understand human speech.
"You dare defy me…!"
Natalie, as usual, was going to run on rampage again. But at that moment, Aria's words filled her head.
"I want Natalie to be happy."
I hope you are happy. Aria always said that to her from the moment she first met. She told Natalie to go the way she wanted. Because there is no such thing as a wrong path.
It was a semi-impulsive act. Natalie put on a venomous look, and instead of anger, she hardened her expression coldly.
Cold and cruel, expressionless. It was the expression she had originally.
"Is it an act that is close to a rebellion?"
Natalie's red lips curled into an arc as if hearing something very interesting.
"Is that what you're going to say?"
"What?"
"I still wake up in my sleep when I think of the nightmare during the hunting contest."
"…!"
I know you sent the assassin. She wanted to say that.
"Even if I'm a thorn in the eye, it's troubling to make a false accusation like that, Your Highness."
"Aren't you the one who regarded me as a thorn in the eye?"
The piercing words were so sharp that Duke Battenberg was perplexed.
It was something Natalie would never normally do. He doesn't know if she could grab him by the neck and swing her fist right away.
As he rolls his head in embarrassment, Natalie adds one more thing.
"There is something I found out by chance. Among the apprentice maids who came in after being recommended by the Battenberg family, there was one from the orphanage of St. Aquino."
What a surprise. She continued with an exaggerated startled expression.
"How did a child who had been used as a test subject by the excommunicated Saint Veronica enter the Imperial Palace after being recommended by the historic Battenberg family?"
"……"
"It's a huge coincidence, isn't it?"
He must have hidden it completely. There was no way the Princess could know any information related to that. Never.
'She heard from Valentine.'
Otherwise, there was absolutely no room for that information to leak out.
'The Princess is with Valentine.'
After all, was it not a coincidence that the Princess's actions seemed to be helping Grand Duchess Valentine secretly? What's more, with that simple and stupid look, how can she hold Battenberg's weakness.
It was the first time that the bear, who had only been running on rampage because of her temper, exposed her claws to him.
"Shouldn't you live quietly?"
Natalie patted Duke Battenberg a couple of times before passing him by.
Comments for chapter "Chapter 180"
MANGA DISCUSSION
Tags:
Abusive Characters
,
Adapted to Manhwa
,
Aristocracy
,
Beautiful Female Lead
,
Charming Protagonist
,
Child Abuse
,
Child Protagonist
,
Contracts
,
Cruel Characters
,
Curses
,
Cute Children
,
Cute Protagonist
,
Demi-Humans
,
Depictions of Cruelty
,
Doting Love Interests
,
Doting Parents
,
European Ambience
,
Family
,
Fantasy Creatures
,
Female Protagonist
,
Godly Powers
,
Gods
,
Half-human Protagonist
,
Handsome Male Lead
,
Hidden Abilities
,
Hiding True Abilities
,
Hiding True Identity
,
Magic
,
Maids
,
Marriage
,
Marriage of Convenience
,
Music
,
Mysterious Family Background
,
Mythology
,
Nobles
,
Pregnancy
,
Priestesses
,
Priests
,
Reincarnation
,
Religions
,
Saints
,
Second Chance
,
Singers
,
Special Abilities
,
Tragic Past
,
Tsundere
,
Younger Love Interests