Becoming the Villain's Family - Chapter 241

Chapter 241
Of course, even if they run away, the chances of surviving are extremely low, but isn't it still worth trying?
"Go……."
Sabina barely managed to get her words out, her voice cracking and stuttering.
"I'm, the one, he's after…."
The Grand Duke's eyes, despite looking clouded by a fog, were fixed on Sabina from the beginning.
She knew why.
They were all little people who would collapse even if the Grand Duke were to only lift a finger, but she was the only one who hurt him.
"Say something that makes sense! Is there any knight who would abandon the person he serves and run away!"
"There is no such wizard."
But Grand Duke Valentine didn't even look at them.
He moves on relentlessly. He actually had more energy than before he was stabbed by the sword.
The awkward, static movement, like a moving statue, has noticeably sped up.
He threw at the knights and wizards who were blocking his path as if they were a hindrance. He literally flung them away.
Seeing the people flying into the sky, it felt so unrealistic.
Behind him who was rushing towards Sabina, only the remains that looked like a storm had passed by were left behind.
His shadow cast over Sabina. It was so huge that she thought she would be crushed by his shadow.
"Kuhk…."
And he grabbed her by the throat with a hand that had pierced a person.
Sabina quickly grabbed the Grand Duke's hand.
Of course, he didn't budge.
'My legs can't reach.'
She barely let out a shaky breath and struggled, but her breathing only got tighter and tighter.
Her vision slowly faded to black.
"Madam! Ugh, Madam!"
Yannick desperately tried to reach her, dragging his broken leg.
Gerald seemed completely unconscious. He was lying on the ground bleeding and there was no way to tell if he was dead or alive.
Carlin continued muttering and reciting spells.
"…Please, please! Damn it! Shit!"
Unfortunately, none of the spells that worked earlier seemed to have worked, perhaps it was a fluke. He was strangely desperate despite being summoned out of the blue and caught up in a huge incident with no connection to him whatsoever.
'Is this the end?'
Sabina thought she had already lost her sense of pain after being caught in the explosion, but the pain of being strangled was more terrible than she could have imagined.
But should she say this is fortunate?
When the pain exceeded its limit, she couldn't feel anything at all. Somehow, she could even laugh.
'The monster that shatters barriers with his bare hands and pierces people with his fingers is strangling me.'
Strangely, he didn't break her neck right away.
Most of the people thrown by his hands seemed to have survived. Now, it probably means that he doesn't even have that level of power anymore.
She closed her eyes in relief.
'I'm glad though.'
She wasn't killed right away, but still, she wouldn't live long.
This must have been why the Grand Duke suddenly lost his composure and rushed at Sabina. It means that her blow was quite fatal to that devil.
It wasn't a bad reward for sacrificing her life.
"Sabina!"
Then.
Sabina, who was almost at her end, suddenly felt her breath in an instant.
"Ugh, cough, kuhk…!"
The force that had been constricting her neck was released in an instant, and the air rushed violently.
She coughed violently.
Every time that happened, she felt like her lungs were being stabbed by a sharp awl, and it was incredibly painful.
"Cough, kuh, huu…."
Tears streamed down her eyes.
She didn't even have the energy to wipe her eyes, she left it as is and just blinked.
It wouldn't have been surprising if she had fainted right now, but perhaps because of the excruciating pain, her mind was clearly awake at that moment.
'It hurts.'
It seemed like she was being held tightly in someone's arms.
"Gran……."
Grand Prince?
She couldn't spit out that single word properly, like her vocal cords were broken.
So she couldn't even ask why.
Because Tristan, who had taken Sabina, was looking down at her with a desperate face.
'Did you just call my name…….?'
His black eyes, where she thought all human emotions had been shattered, shook.
Like he was about to cry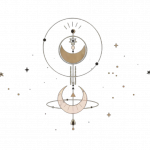 When Tristan arrived in the throne room, he had a cigarette in his mouth. The Emperor cast a disapproving glance at his unrivaled manners.
"You are still the same."
"Don't they say that when a person changes, they're going to die?"
Tristan lifted his lips, remembering the employees and Black Falcon who had followed him in the name of training.
The Emperor, who had always told him to come back for inefficient and worthless reasons, who even allowed them to enter the main palace.
"In that sense, I believe His Majesty will live a long and healthy life. I think you will probably stay like this until the day I die."
At first glance, it seemed like a compliment, but it turned out to be a criticism of his head, as it was and now is.
Of course, since it was a criticism that only worked if the other person was aware of it, the Emperor did not take any damage.
"Stop talking about strange things and get to the point."
Tristan exhaled the smoke and responded with a strange smile to the words of Emperor Conrad II.
"Do you know Allen Castagne?"
There is no way the Emperor would not know Castagne's name. It was a question he was already sure of.
"The Grand Duke would know better."
"What do you mean by that?"
"You were there at the young age of five."
As the Emperor said, Tristan at that time was too much of a child.
"Anyway, why did the Grand Duke take you all the way to Roaz?"
Observing a conquest at the age of five. There was some degree of early education.
"Well, he's a man of few words. All he knows is that throwing his children into danger is his way."
"What kind of beastly discipline is that?"
The Emperor was taken aback.
---
Want to read more? Up to [24] advanced chapters are available on Patreon:

For update pings, novel discussions and/or to send mistake reports, join our discord server~!
Comments for chapter "Chapter 241"
MANGA DISCUSSION
Tags:
Abusive Characters
,
Adapted to Manhwa
,
Aristocracy
,
Beautiful Female Lead
,
Charming Protagonist
,
Child Abuse
,
Child Protagonist
,
Contracts
,
Cruel Characters
,
Curses
,
Cute Children
,
Cute Protagonist
,
Demi-Humans
,
Depictions of Cruelty
,
Doting Love Interests
,
Doting Parents
,
European Ambience
,
Family
,
Fantasy Creatures
,
Female Protagonist
,
Godly Powers
,
Gods
,
Half-human Protagonist
,
Handsome Male Lead
,
Hidden Abilities
,
Hiding True Abilities
,
Hiding True Identity
,
Magic
,
Maids
,
Marriage
,
Marriage of Convenience
,
Music
,
Mysterious Family Background
,
Mythology
,
Nobles
,
Pregnancy
,
Priestesses
,
Priests
,
Reincarnation
,
Religions
,
Saints
,
Second Chance
,
Singers
,
Special Abilities
,
Tragic Past
,
Tsundere
,
Younger Love Interests