Becoming the Villain's Family - Chapter 197

Chapter 197
'No.'
Veronica quickly regained her composure.
'I already expected that it would turn out like this.'
What she was doing now was the process of accepting the power of God.
She was trying to become a God-like being with a human body, so she was fully prepared for this price.
But even if she comforted herself, she couldn't help feeling anxious. The nervousness seemed to dry her throat.
'I don't even have time to relax.'
She really didn't know that as soon as she used the power of God, she couldn't stand it for a day. The degradation proceeded rapidly.
'I can't even last half a day at this rate.'
It seemed as if the presence of God within her body reminded her every moment that her body was nothing more than an insignificant thing.
To think that she could only be this much, this couldn't be.
She looked like she was about to vomit from the displeasure.
'Valentine's family members went mad and died after being exposed to malice for a long time, but they carried God's malice in their bodies for at least ten years.'
But for me, why? Why, what was so different about me?
Veronica gnashed her teeth, eyes bloodshot with evil.
She felt that if she didn't kill Grand Duke Valentine right away to take away God's malice, she would die in vain.
"What about the Grand Duke?"
She immediately asked her subordinate.
Veronica's subordinates, who had been brainwashed for quite a long time, were willing to give their life if it was her order.
"He responded sensitively to the sound, but was completely unresponsive to light. He seemed to have lost his sight apparently."
That's a relief. Even that 'special' Grand Duke Valentine is a helpless human being after all?
He, too, was helplessly collapsing. He finally lost his eyesight.
There has never been a more appropriate time than now.
Veronica then felt her throat, which had been tight with tension, loosen.
"Guide me right now."
She ordered furiously.
"What you promised me."
It was then. Gabriel said, blocking Veronica's path with eyes half-crazy.
"Later."
"Keep your promise now."
"Really… you are a trouble to the end."
Is it because of his innate divine power? Unlike her other subordinates, the sparse brainwashing didn't work well, so it troubled her.
In her mind, she wanted to kill Gabriel by breaking his neck right away.
'But I can't.'
Because Gabriel was a necessary existence. He had a role to play.
After she safely accepts God's malice into her body, he will be there to fulfill her ambition to become God who rules the entire world.
Besides, Veronica and Gabriel's current interests were remarkably aligned. Right, the death of Grand Duke Valentine.
'At least there's not even a 1% chance that will interfere with me.'
"All right. Do whatever you want. The Grand Duchess is locked in a room. In a cage that can completely block the Siren's abilities."
She waved her hand roughly like trying to clear away a pesky fly.
"Since His Holiness, ashamed of his lowly skills, stepped down from the throne with his own feet, now I have no choice but to declare the holy war myself."
Veronica said without batting an eye.
To declare a holy war directly. That meant that she would ascend to the position of Pope herself.
Then, perhaps her subordinates had waited, he approached Gabriel and bowed.
At that moment, Gabriel saw.
Looking over the collar of the priest who bowed his head politely, Gabriel saw the same pattern he had seen in the mirror engraved on that priest too.
"I will guide you."
Without looking back, Veronica led the rest of the men into an underground labyrinth.
Gabriel stood still, lost in thought for a moment, looking at the blonde hair, which had lost its luster.
For a long time.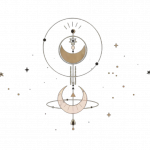 The underground labyrinth.
A labyrinth that one can never get out of once they step into it.
Even among those who worked at the Great Temple of Fineta, it was a space that only a few knew.
"Hurry up. Quickly!"
Veronica feared that her body would collapse at once and she would die, so she could not use divine power.
All she could do right now was to harass her subordinates with all the threats.
And she finally arrived.
'Grand Duke Valentine!'
In front of Lloyd.
"Are you a little more aware of the situation now?"
Veronica said as she approached Lloyd, who stood leaning against the wall. She pretended to be relaxed, but she was shaking as she was losing her mind with nervousness.
Lloyd closed his eyes, and didn't answer.
"As soon as you use the divine power you have, you will die without being able to endure the corruption."
It was the reason Lloyd was caught.
As soon as he arrived at the imperial palace, he drew God's malice with the thought of overturning everything within a single day.
But he couldn't put it into practice. Immediately, one of his eyes went blind.
'It wasn't that I couldn't subdue them even though I was blind…….'
He instinctively felt that if he used the power of God more than this, he would die.
"You must be in the same situation."
"Then kill me."
"I can't. The world will perish."
Of course, even Veronica can't kill Lloyd right away.
There was only one way to bring out God's malice that was harbored in Lloyd's body. Before she could kill him, she had to transfer his powers into her own body.
She will be able to kill him after that.
"Hans!"
With Veronica's call, the wizard stepped forward.
"Extract the malice and inject it into me!"
"Umm……."
However, Hans was only making an expression as if he had chewed a bitter fruit. He seems to have been oblivious to Veronica's obsession with power, but a part of his heart was uneasy.
'Why are you so calm?'
Of course, it was to no avail if Lloyd rebelled now.
Rather, the more he used the power of God, the more he was simply asking to die together.
'But he would have been able to resist even without using the power of God?'
Hans, a native of the gutter, knew it well.
The gutter people once regarded Valentines as rivals.
The gutter rat, the master of the gutter, used to curse at Valentine whenever he had a chance. So, listening to it every day, Hand could automatically understand the temper of the Valentine family.
'In the first place, he heard that their innate body itself far surpassed that of humans, and that its strength was formidable. And even if their body is broken or shattered, they are crazy people who will rush and attack…….'
"Those devil bastards will never give up even if God descends right in front of them. But what happens when those bastards are strangely obedient? That means they're preparing to fool you."
Why do the words that the gutter rat had said with a trembling mind resurfaced right now and does not leave Hans' mind?
'In the first place, the gutter rat was fooled by Grand Duke Valentine and died, just as he said.'
Hans thought for a while before saying.
"This man… can you put him to sleep?"
However, Veronica's subordinate, who was standing next to him with an expressionless face, answered.
"The drug doesn't work on him."
"I heard that there is an anesthetic that can put brown bears to sleep in seconds…"
"We already tried to put the brown bear to sleep."
It means it was already used.
"Well, then, there is also a drug that can put a person into a coma with just one injection…"
"It's all gone."
Is this person a monster?
'Is he in this current state after being injected with so much drug that they ran out of it?'
Lloyd looked like something more than a brown bear.
Hans hesitated. It was because he felt like the moment he touched Lloyd, Lloyd would tear himself apart like prey.
"What are you waiting for?"
Do you want to die? Veronica muttered bloodily, her venomous eyes widening.
"You were obedient so I let you go. Do you want to be brainwashed with 'that power' too?"
Then Lloyd's gaze briefly turned to Hans. Lloyd's eyelids closed, but he was looking straight in the direction of the sound.
"Try it."
Lloyd crossed his arms and raised his tightly closed lips at an angle.
Hans wanted to use the movement magic to get out of this place immediately. But, judging by the circumstances, he could never escape.
'Ah, I don't know.'
If you die, you die! Threatened by threats from both sides, he eventually reached out to Lloyd.
As soon as he touched Lloyd's hand, he thought he would show his
power immediately, but Lloyd still did not show much resistance.
"Would you like to draw some blood?"
Are you going to stand still?
In any case, Lloyd doesn't seem to want to run away.
Feeling a bit more comfortable, Hans took out the equipment he had become accustomed to through experiments.
And after carving a magic circle on the floor, he placed natural rocks in every corner.
And he filled the magic circle with Lloyd's blood and Veronica's blood.
'Damn it! I don't know what will happen!'
He closed his eyes and chanted a magic spell.
He broke out in a cold sweat from the tension.
And,
"…"
"…"
Surprisingly, nothing happened.
Comments for chapter "Chapter 197"
MANGA DISCUSSION
Tags:
Abusive Characters
,
Adapted to Manhwa
,
Aristocracy
,
Beautiful Female Lead
,
Charming Protagonist
,
Child Abuse
,
Child Protagonist
,
Contracts
,
Cruel Characters
,
Curses
,
Cute Children
,
Cute Protagonist
,
Demi-Humans
,
Depictions of Cruelty
,
Doting Love Interests
,
Doting Parents
,
European Ambience
,
Family
,
Fantasy Creatures
,
Female Protagonist
,
Godly Powers
,
Gods
,
Half-human Protagonist
,
Handsome Male Lead
,
Hidden Abilities
,
Hiding True Abilities
,
Hiding True Identity
,
Magic
,
Maids
,
Marriage
,
Marriage of Convenience
,
Music
,
Mysterious Family Background
,
Mythology
,
Nobles
,
Pregnancy
,
Priestesses
,
Priests
,
Reincarnation
,
Religions
,
Saints
,
Second Chance
,
Singers
,
Special Abilities
,
Tragic Past
,
Tsundere
,
Younger Love Interests