Becoming the Villain's Family - Chapter 187

Chapter 187
No way, it can't be.
"God looks like this…"
There's no way.
Even if God lost all feelings, God would not have become this miserable. It is God, after all.
Even while repeating that, Aria realized. Because there was a black hole pierced in what was supposed to be God's heart.
'As if someone had cut out the heart.'
Aria tried again to recall the scene Juan's memory had shown her.
God who lost his emotions also lost his reason.
God, who couldn't feel anything.
God, who could no longer even love the creatures.
And…….
Aria licked her dry, white lips.
"In the end, God even forgot his own existence. Is that why God became like this?"
The God, who once resented death.
But she knows now. After God became what the world would call a monster, he slept in a cave.
Aria didn't know what kind of expression she was supposed to make.
"Is this God?"
Lloyd also muttered in disbelief.
He was born with the karma of having to bear God's malice from generation to generation due to the sins committed by Valentine's ancestors. From the moment he was born to the day he died. He was destined to live in pain for the rest of his life.
However, the God who brought such fate was right in front of his eyes.
'That's the way it is.'
He couldn't help but be upset.
Silence fell between the two of them. They couldn't even come up with anything to say. The two of them stood still for a while, looking up at the thorny-vines of the once-God.
At that time. Aria suddenly lowered her head and let out a painful moan.
"Haah…"
She has been enduring until she finds the ice flower, and eventually reaches her limit. In fact, her body was almost fainting.
Realizing that this was not the time, Lloyd picked the ice flower without hesitation.
'We found it right this time.'
As soon as his fingers touched it, his skin began to freeze in the blink of an eye, like it had been frostbitten. If he holds it any longer, it would be fast enough that he might have to amputate his fingers.
'Can Aria just eat this right away?'
At the same time, he was worried when he felt the chill.
If Aria chews and swallows this flower, he was wondering if her mouth and esophagus will be severely injured in the process.
He made a quick decision and brought the flower to his mouth without hesitation. Lloyd rolled the flower on his tongue for a moment.
'It doesn't melt.'
It would be natural.
It was so hard that he couldn't even chew it with his teeth, so she had no choice but to swallow it whole.
He lowered his head over Aria's lips, who was surprised by his sudden action. Then he handed her the flower and kissed her tenaciously.
Without giving her the slightest gap to swallow.
He said quickly.
"Use the energy. Right now."
She quickly spread her energy all over her body before her entire body froze.
Then, from the tip of the letter Carlin had engraved on her wrist, a white light shimmered, and it came up on her wrist in an instant.
"Ugh…!"
Aria broke out in a cold sweat from the cold air that spread through her. The extreme cold, which she had never felt before in her life, came upon her.
Not only her internal organs, but even her heart froze, so a cold fear engulfed her whole body.
"Uht….ugh!"
Aria groaned and reached out her hand desperately for Lloyd. Like he was her lifesaver.
She curled up, groaning in pain, then suddenly coughed up blood among her cries.
"Cough! Kuhk…"
"Aria!"
Lloyd said hastily, holding Aria's hand tightly.
"Aria, do you recognize me?"
She nodded her head with difficulty. Lloyd held Aria in his arms and whispered in her ear.
"Don't disturb your breathing. Never lose your mind."
With an even more painful face.
Fearing that she could not bear the pain and fainted, he continued whispering and slapping her cheek lightly.
Aria squeezed Lloyd's back tight until her fingernails left marks, then tears dripped. It froze and seemed like it was about to break into pieces.
'…… I have to keep managing the energy so that the flow doesn't break.'
She desperately held out.
She had to constantly circulate energy so that she wouldn't be frozen by the extreme cold. But she instinctively felt that even if she endured like that, it was not enough.
It wasn't because the yin energy itself disappeared from her body. There was only one way. As the doctor warned them beforehand.
'If you don't accept yang energy into your body, you'll die…….'
Aria closed her eyes, her eyelashes quivering before she let go of his hand.
And she cupped his cheek. Her icy hand ran down his cheek and she brushed the nape of his neck as if it was hers and wrapped it around.
"It's hot."
She thought she was going to get burned.
With her half-open eyes, Lloyd's eyelashes trembled, unlike Aria who was muttering so. The coldness that touched his back seemed to set his nerves on edge.
"Aria."
As Lloyd hurriedly put her name in his mouth, she pulled Lloyd by the neck.
Before she even thought about it, her survival instinct forced her to hug Lloyd and kiss him. It tasted like blood.
The extreme negative that freezes everything and the polar positive that burns everything meet and intertwine.
Lloyd held her and swallowed everything in her, then suddenly put his gaze behind her.
The unpleasant aura was hovering behind her back.
'It's still following her.'
Lloyd gave Aria his heat and glared at it with a murderous gaze. He stretched out his hand at once. And he grabbed the aura.
Like crushing it in his hand. Then, an unknown energy emitted an unearthly sound and illuminated the form at first glance.
'A pattern?'
Lloyd memorized the pattern that flashed and then disappeared in just a few seconds.
The energy that started to distort from the edge was completely destroyed and disappeared without a trace as if it was crushed by the overwhelming force in an instant.
At the same time, Aria parted her lips and made a startled sound. It was still painful, like being stabbed in the heart with a piece of ice.
She still froze to death.
But even so, the aura that had been tormenting her, as if weighing down her whole body, disappeared in an instant.
"Lloyd. I think I'm feeling a little better…"
"Shh, focus."
Lloyd took off his coat and laid it on the floor, rubbing Aria's frozen lips with the tip of his finger.
And he said, pressing her tongue, which was exposed between the cracks of her gaping lips, softly.
"You're still like an ice field."
However, Aria was hot as if she was scalded wherever she came into contact with Lloyd.
Aria just rolled her eyes and looked up at him. Lloyd's face filled up her clear, transparent eyes that were watery and sparkling.
She pursed her lips.
"I'm so cold."
I want you to hold me until I melt.
Lloyd hurriedly rushed to her lips again.
They shared the heat slowly again.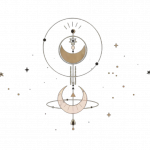 "… Lloyd."
"Um?"
"I'm really fine now…"
Aria mumbled, burying her face in her hands.
When she struggled to dispel the aftermath of the freezing spell, she couldn't even think because of the pain that went beyond her imagination.
When she came to her senses, she finally remembered the past events and felt unbearably ashamed.
"How many days have passed?"
Being in a cave, they couldn't get a sense of time. Still, she could feel that a very long time had passed.
Carlin probably froze to death while waiting for them outside the cave. There would be no one(?) to warm his frozen body.
'I committed a terrible thing in front of the sleeping God…….'
Even though God's current appearance was shocking, it was still quite a solemn atmosphere.
But she had no choice but to live, so she excused herself. Afterwards, she felt like she was swept away by the atmosphere, but it was true.
"Can I kiss you?"
"Lloyd, did you not hear me?"
"I heard."
"Did you hear that right? I'm really not sick anymore."
Lloyd licked her lips without answering her words. Her swollen lips seemed to tingle at the slightest touch.
It was a gentle, smooth movement, but Aria whined and pushed him away.
"This is a punishment for treating your sick body carelessly."
He parted his lips from her lips and spoke shamelessly.
"Is that what Lloyd should say?"
"Then punish me too."
There really won't be an end to this.
Aria had to get out of this boundless kiss quickly before Carlin really turned into an ice statue.
"I'll punish you when I get home."
Lloyd seemed to finally have the will to go back. He picked up Aria, who couldn't get up because her legs were weak.
She hesitated for a moment, as if choosing her words, then spoke.
"This place… what should we do?"
"As you said, we'll think about it after we go back."
That was right. There was nothing they could do now. Even so, there was a lingering feeling.
"Can't we wake up God?"
"I don't think that's a good idea."
God still lost his feelings.
If God wakes up, God will not feel anything and will not even be able to love humans.
However, Lloyd couldn't just return God's malice. Because God will then become an evil God full of malice.
"But, God was crying…"
Was it the last tear before losing emotion? Every year, ice flowers bloom in places where the tears have touched…….
What would God who had all the feelings look like?
'I want to see it myself.'
Aria felt an intense desire that broke her heart.
And as she stepped out of the cave, she sensed that the time had come.
It's time for her to take Garcia down completely.
Comments for chapter "Chapter 187"
MANGA DISCUSSION
Tags:
Abusive Characters
,
Adapted to Manhwa
,
Aristocracy
,
Beautiful Female Lead
,
Charming Protagonist
,
Child Abuse
,
Child Protagonist
,
Contracts
,
Cruel Characters
,
Curses
,
Cute Children
,
Cute Protagonist
,
Demi-Humans
,
Depictions of Cruelty
,
Doting Love Interests
,
Doting Parents
,
European Ambience
,
Family
,
Fantasy Creatures
,
Female Protagonist
,
Godly Powers
,
Gods
,
Half-human Protagonist
,
Handsome Male Lead
,
Hidden Abilities
,
Hiding True Abilities
,
Hiding True Identity
,
Magic
,
Maids
,
Marriage
,
Marriage of Convenience
,
Music
,
Mysterious Family Background
,
Mythology
,
Nobles
,
Pregnancy
,
Priestesses
,
Priests
,
Reincarnation
,
Religions
,
Saints
,
Second Chance
,
Singers
,
Special Abilities
,
Tragic Past
,
Tsundere
,
Younger Love Interests