Becoming the Villain's Family - Chapter 179

Chapter 179
Lloyd's eyes widened in surprise for a moment, then narrowed between the gaps.
"You……."
He, who was sitting down, pulled his chair and got up. And he approached Aria without hesitation.
In an instant, his face came closer. His breath touched her cheek. Lloyd reached out his hand, grabbed Aria's back and pulled her.
"Do you mean the same thing as back then?"
His expression, which had softened in an instant when Aria said not to be angry, became more fierce than before.
"Back then?"
Oh.
'Does it sound like I'm making one last request before I die?'
He seemed to have misunderstood that she had asked him to kiss her because Aria had given up her own life.
'Well, I already have a record of doing it.'
She hid from him the fact that she was time-limited, and she forced herself from confessing her heart. With the current flow of conversation, it was easy to make it sound like that again.
'No, it's the other way around…….'
She asked because she wants to live. With Lloyd.
But she didn't want to be honest yet, so she licked and chewed her lips, blushing without saying a word.
"I just want to…"
And she mumbled.
Seeing Aria's embarrassed expression, Lloyd relaxed his hand little by little. Her fine hair fluttered between his fingers.
"I'm sorry. I misunderstood."
He was rather intimidated by Aria's courageous confession.
Lloyd sighed as he pressed his own forehead to her forehead lightly and then sighed away. Aria grabbed Lloyd's hand that was leaving without a hesitation.
"Why are you leaving?"
"……"
"You can just concede to me."
Aria whined and whispered in a small whisper.
"I'll be an adult soon…"
Less than a month left now. What is so different now and then?
But she could no longer speak. When she said these words herself, she began to feel out of control.
'I just looked very young.'
Aria opened her lips and closed it repeatedly, looking up at Lloyd with a trembling gaze.
"Ha… Listening to you, I remember more vividly the moment I almost touched you without patience after saying I would wait until you became an adult."
Then he mumbled his words with a sigh. Those words sounded as if he was regretting what he was about to do to the little girl.
Aria shot back at him.
"That's right. At that time, Lloyd tempted me first!"
"Tempted?"
As Lloyd said so, he clasped her cheek softly. He kissed Aria on her forehead and slid his lips down slowly, almost touching the lips.
"Uht."
Her breathing got suffocated. Her toes were curled up, her fever was rising, and it was as if all the hairs on her body were standing up for no reason.
All of a sudden, her eyes got entangled. It seemed that she would be eaten by the gray eyes of his, which was flushed with heat.
Aria closed her eyes tightly without realizing it.
"I think this might be a temptation."
Lloyd slowly lifted his head away as he pressed on Aria's forehead, which continued to twitch whenever his breath touched.
"You're too scared."
"No, this is my first time…"
"It's my first time too."
It's his first time, so why did he look so good? They're both inexperienced, but why does his every action feel so expert?
Aria was genuinely curious.
It was the same when he came out of the bathroom without even wiping his hair and brazenly asking her to dry his hair.
He still doesn't blink an eye.
"When I was young, even just kissing gave you murderous energy. When I said embarrassing words, you even cursed and turned red …."
"Now you do."
"Ugh."
Aria looked up at him in protest for a moment with a red face.
"…does it change when you become an adult?"
Aria died as soon as she became an adult. And as soon as she died, she returned back to the time when she was a child.
Her days as a child were more than necessary, but her days as an adult were very short. So, she wondered if she was so different from Lloyd, who has been an adult for four years.
"Well, at least the rabbit at the coming-of-age ceremony will have the same reaction as now…"
Lloyd grinned and patted her hair.
"Then I won't let you go."
Even if you die, even your soul. Swallowing the words, he passed Aria and left the room.
Aria followed behind him with devastated eyes.
'You will keep what you said until the end.'
She sighed and fell on the bed.
At this point, she got arrogant. And she became even more curious.
How will he react after she proudly declares that she will be with Lloyd on the day of the coming-of-age ceremony?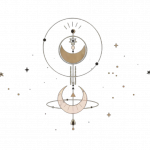 "- Lloyd."
Aria suddenly called for Lloyd, who stood paused.
While walking escorting her, he paused and stared into the banquet room, he looked unpretentiously cute.
"What are you blanking out about?"
Aria poked her finger in his back with a smirk in her voice.
And she said as she stretched out her hand, in front of him, who was standing still, asking for his escort.
"Come here. Today is my coming-of-age ceremony."
"….."
"What's the matter?"
Lloyd answered, staring down at Aria's hand.
"Somehow, I feel like I've seen a scene like this before."
As he said so, he took Aria's hand, kissed the back of her hand and let it go. Still, he did not take his eyes off her for a moment, and looked at her with a tenacious gaze.
While Aria was thinking hard about how to explain the yin-yang harmony to him.
'In the end, I couldn't find any other way but the freeze technique…….'
Of course, she reacted more sensitively than usual.
"The back of your ear is red."
Lloyd looked down at her curiously as he fiddled with her earlobe.
"This is different from back then."
"What are you talking about…"
Aria couldn't stand his gaze and her face was about to burst. At the same time, voices resembling boos filled the banquet hall.
"How long are you going to monopolize the main character?"
"Yes, the little deer is in trouble because of the Grand Duke!"
"Descendants of Atlantis! May you live long!"
"Brother, I heard that you made this cake, did the employees get hit with an arrow in the head as a group?"
"…they weren't in the vision of God's hope that I saw."
Lloyd muttered grimly.
It was the day of her coming-of-age ceremony.
Comments for chapter "Chapter 179"
MANGA DISCUSSION
Tags:
Abusive Characters
,
Adapted to Manhwa
,
Aristocracy
,
Beautiful Female Lead
,
Charming Protagonist
,
Child Abuse
,
Child Protagonist
,
Contracts
,
Cruel Characters
,
Curses
,
Cute Children
,
Cute Protagonist
,
Demi-Humans
,
Depictions of Cruelty
,
Doting Love Interests
,
Doting Parents
,
European Ambience
,
Family
,
Fantasy Creatures
,
Female Protagonist
,
Godly Powers
,
Gods
,
Half-human Protagonist
,
Handsome Male Lead
,
Hidden Abilities
,
Hiding True Abilities
,
Hiding True Identity
,
Magic
,
Maids
,
Marriage
,
Marriage of Convenience
,
Music
,
Mysterious Family Background
,
Mythology
,
Nobles
,
Pregnancy
,
Priestesses
,
Priests
,
Reincarnation
,
Religions
,
Saints
,
Second Chance
,
Singers
,
Special Abilities
,
Tragic Past
,
Tsundere
,
Younger Love Interests